Tech
Discover the Most Important Updates to Claid: a 2022 Recap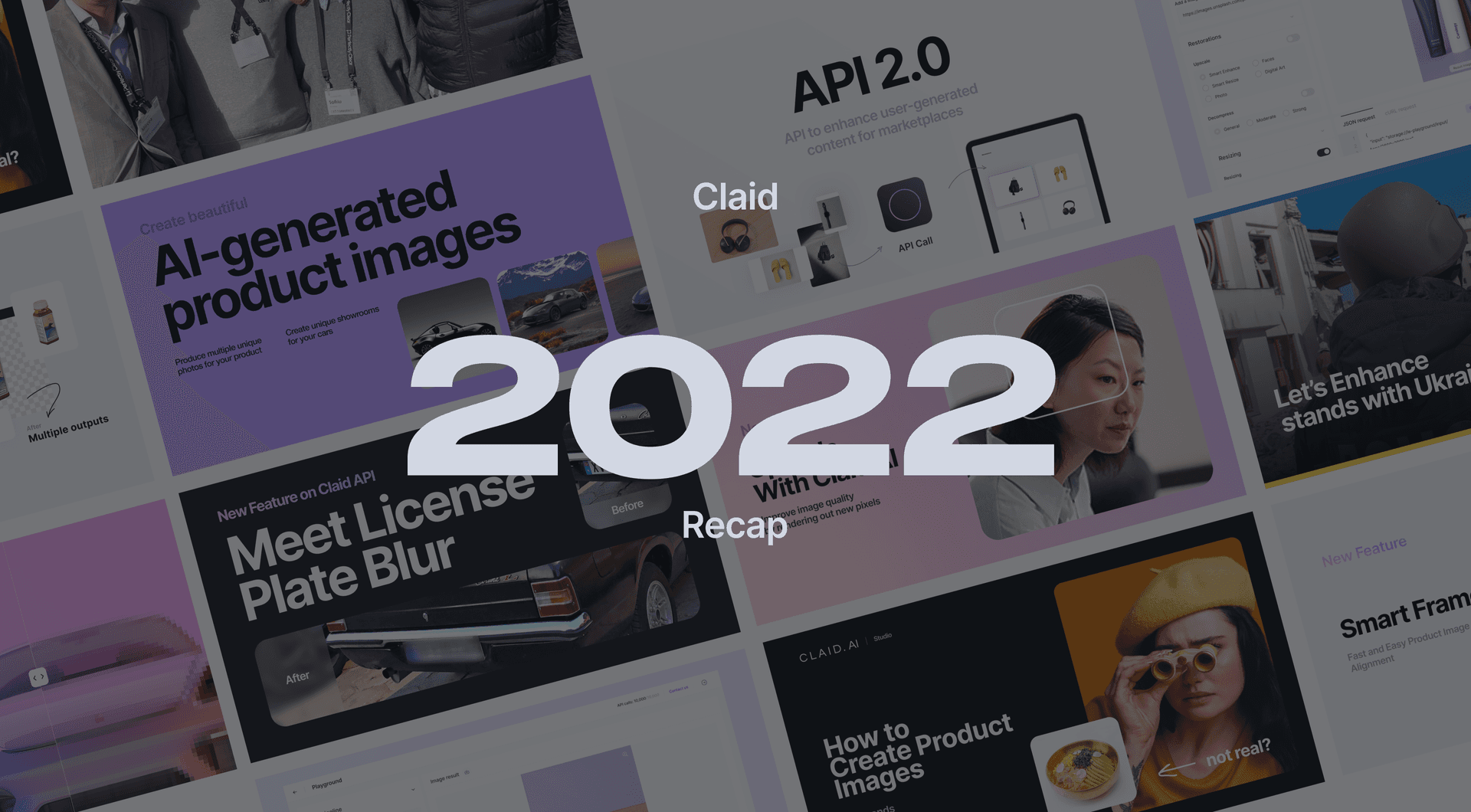 2022 was a big year for Claid. We released a range of AI tools to help businesses generate and enhance product imagery, welcomed amazing new customers, and participated in some of the first post-lockdown conferences.
Let's take a look back at some of these milestones.

Standing with Ukraine
Early in 2022, the world was shocked by Russia's unprovoked invasion of Ukraine. Let's Enhance stands in solidarity with Ukraine and will continue to support the brave Ukrainian people and their right to defend their sovereignty and freedom in the face of this unjustified aggression. The full statement can be found here.

Create product pics in a snap with generative AI designed for eCommerce
Generate and transform product imagery in seconds with our new generative AI. You can now create engaging images for your marketing campaigns in a flash.
Learn more and apply for early access here: AI image generation

Make listing photos on your marketplace consistent with Smart Frame
Smart Frame helps you ensure that all listing images on your marketplace look uniform. Smart Frame gives you control over a whole range of image properties, from aspect ratio to padding.
Learn more: Smart Frame: Fast and Easy Product Image Alignment | Claid.ai

Automate all image processes with Claid API
Claid API enables companies to automate their entire image editing workflow. It is simple, flexible, and robust, allowing developers to quickly configure it and meet the specific needs of any platform.
Learn more: Meet Claid API 2.0: a Next-Gen AI Image Editor for UGC
Check out the docs: Claid API Documentation

Set up image editing operations with a few clicks in the API Playground
Using APIs requires technical skills and can take time to figure out and set up. To simplify the way companies integrate Claid, we introduced two new easy interfaces: API playground and Claid Studio.
API playground helps developers to set up the image editing automation by just clicking a few toggles right on the Claid website.
The playground builds the request payload for you, so you can just copy and paste it when launching an automated editing process.
However, for a deeper dive into the technical aspects of the API, you can always check in with our docs.

Tap into AI image editing with zero coding using Claid Studio
Claid Studio makes our AI-powered image enhancement solution accessible to any person on your team, technical or not. The Studio essentially turns Claid into an easy-to-use online app.
People from content and design teams can use Claid Studio to enhance images quickly and easily without any integrations. Engineers can use Claid Studio too, as it also offers the payload code snippet preview that you can use for headless integrations.

Protect car owners' privacy with License Plate Blur
Claid's License Plate Blur helps car marketplaces protect users' privacy by automatically blurring license plates in images.
Car plates can work with other operations, such as quality enhancement and background removal, allowing you to automate them all in one go.
Learn more: Automatically Blur License Plates in Photos on Your Website with Claid's New Feature | Claid.ai


Control image standards with automatic quality assessment
Marketplace's suppliers upload content of varying quality. Some photos might be just perfect, some need slight retouching, and others require a lot of editing.
A quality estimation feature breaks down different aspects of the image and assigns a quality score to each.
This can be used to completely automate the image moderation and editing process, so only photos that need enhancement are sent to the enhancement pipeline.


Establish a uniform look and feel on your platform with background removal
In 2022, we added a range of new features to help you make the photos on your website consistent, including some handy operations with the background.
Learn more: The Benefits of Consistent Visual Content and Product Images | Claid.ai
We improved the accuracy of the background removal and added category-specific operations. Now, Claid users can choose from general, cars and products categories. The first one works with all kinds of images, while the category-specific operations are more precise with automotive and product photography respectively.
Pick custom background colors
You now have more control over the background look. You can make it transparent, white or choose any color. This option helps ensure that each photo meets your brand guidelines, creating a consistent visual experience.
Learn more: How to Automatically Remove Image Backgrounds with Claid | Claid.ai
Background blurring
Blurring the background is another great way to ensure that your marketplace's visitors pay full attention to the main object in the photo — eg, a product or a car. Claid.ai supports background blurring and allows you to configure the type and intensity of the effect.
Read in the docs: docs.claid.ai/image-editing-api/image-operations/background#background-blurring
Scale comfortably with our enhanced infrastructure
This year, Let's Enhance has teamed up with Google Cloud and Nvidia to create a powerful AI-driven infrastructure for image processing. Our partnership has produced an innovative infrastructure that leverages the latest top-of-the-line GPUs from Nvidia, the cloud environment from Google, and the neural networks from Let's Enhance.
But most importantly, it enabled us to provide customers with faster, more efficient and scalable image processing services.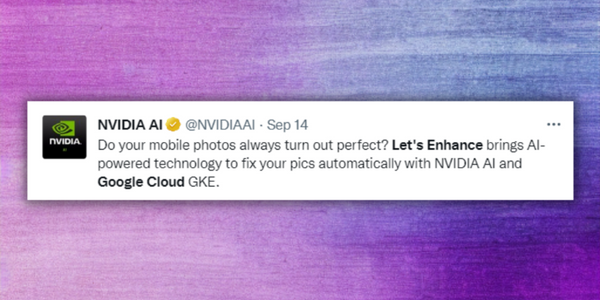 Learn more: Let's Enhance Partnered with Google Cloud and Nvidia to Build a Cutting Edge AI Image Processing Infrastructure | Claid.ai
Impress clients with stunning visuals, just like our customers do
In 2022, a handful of incredible companies became our customers. Here are just some of the names.
Rappi
Voyage Prive
Printify
Mirage Gallery
Enhancing AI artwork with AI
Mirage Gallery is an AI art curation platform. It allows collectors to buy and sell AI-generated artworks globally.
Claid helps Mirage Gallery to upscale digital art to 8k resolution for any sort of printing.
Claid was able to upscale and improve the quality of my photos and video frames at lightning-fast speed.
— August Rosedale, the founder of Mirage Gallery
Learn more: Mirage Gallery: Upscaling Digital Art | Case Study | Claid.ai


Benefit from the future technologies now: events highlights
To stay ahead of the curve and ensure our customers continue to benefit from emerging technologies, we attended multiple industry-leading conferences this year.
At the Synthetic Futures live event, our CEO, Sofiia Shvets, took part in the 'From Photography to Synthography' panel. The panelists introduced a definition of "Synthetic Media 2.0", which is created from the ground up using low-effort inputs, such as text descriptions.
Check out the full discussion on YouTube or our summary on LinkedIn.
The 10th annual Visual1st Conference in San Francisco showcased the breakthroughs achieved in the imagery technology sector.
AI has revolutionized the field, powering many tools, such as AI-image generators and object recognition. It has also enabled crypto and NFTs, allowing artists to mint and sell art online.
Learn more: The Power of Computer Vision: How AI is Advancing Imagery Tech | Claid.ai
And by the way, Sofiia will soon present our new generative AI solution at the next Visual 1st event on Jan 19th. Don't miss it!
Sign up by the link: Generative AI — Visual 1st

Try the magic of AI image editing for yourself
You can test the power of our next-gen AI without any commitment. Just create an account with Claid and try all of its features on your images, free of charge.

Claid.ai
December 30, 2022