Tech
Automatically Blur License Plates in Photos on Your Website with Claid's New Feature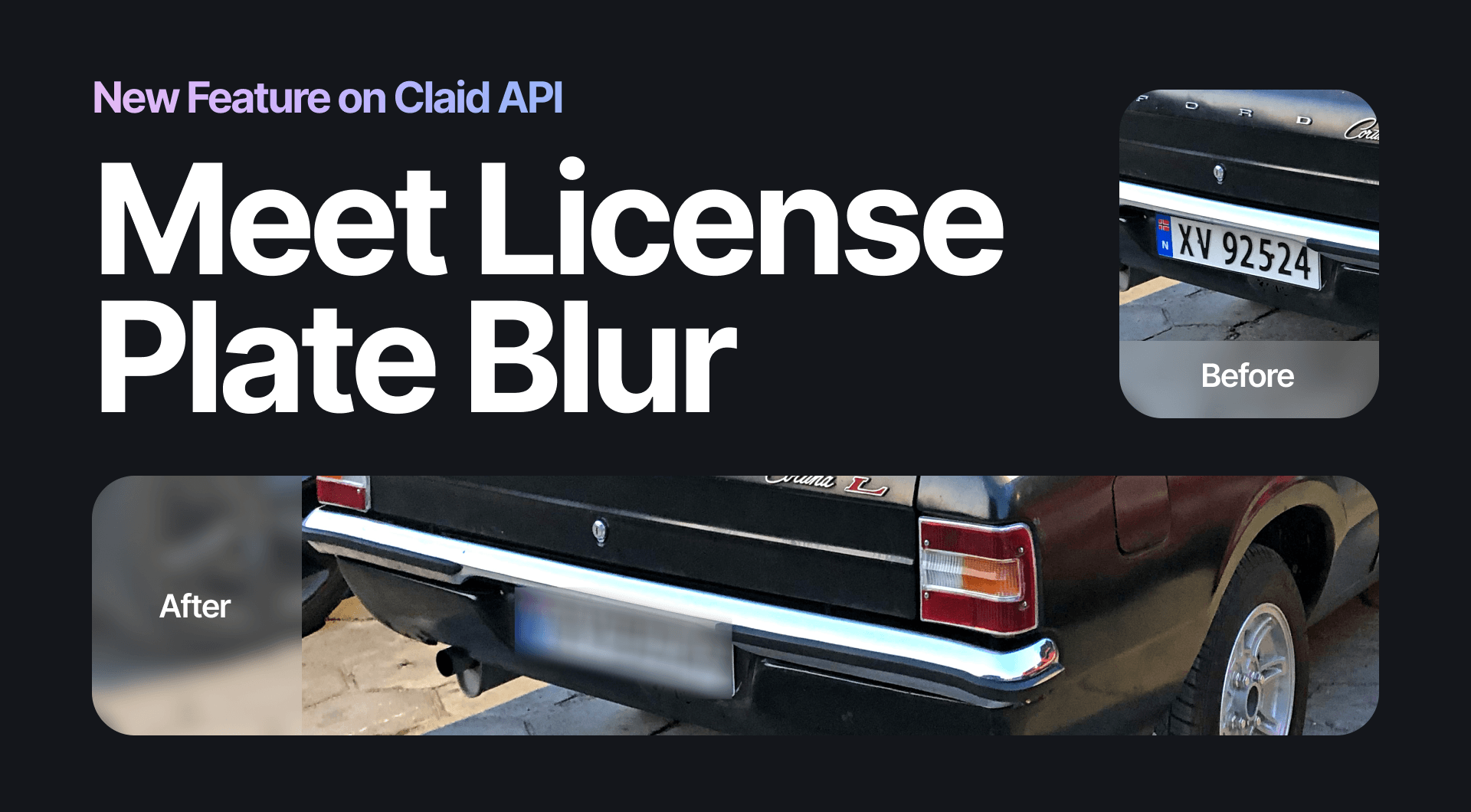 Claid's new operation helps car marketplaces secure users' privacy by automatically blurring license plates in images. Learn how your business can benefit from our new License Plate Blur and how to start using it.
Automatically blur car plates in user-provided photos
Does your car website get pictures from users?
Before, you either had to manually obscure number plates or put this chore on users. This approach wastes your team's resources and delays the time to market for each listing.
Now you can simply use Claid.
Our new feature automatically detects and blurs out vehicle registration plates in photos. License Plate Blur is automatic, accurate and compatible with other image editing features of Claid.ai.
Automotive websites can use License Plate Blur to:
Protect car owners' privacy
Automate the operation if it was done manually before
Establish a consistent approach to anonymizing plates across all listings on your site
License Plate Blur also stacks up with other operations such as quality enhancement and background removal to instantly transform user-generated images to any requirements.
Blur all plates at once — whether it's a single car or a busy road
Our AI automatically detects and blurs out all the registration plates in photos.
You can be sure that random cars' plates won't get exposed — even if a picture was taken in a crowded parking space.

Process pictures taken from any angle with perfect accuracy
The blur effect is precise and works with images shot from different angles.
Unlike traditional image moderation software, Claid leverages the latest computer vision technologies that match human editing in accuracy and the quality of results.

Combine with quality enhancement and background removal for cars
Claid is your one-stop shop for all things image preparation.
You can use License Plate Blur together with upscaling, background removal, quality restoration, color adjustment and other features to transform user-provided photos to meet your standards.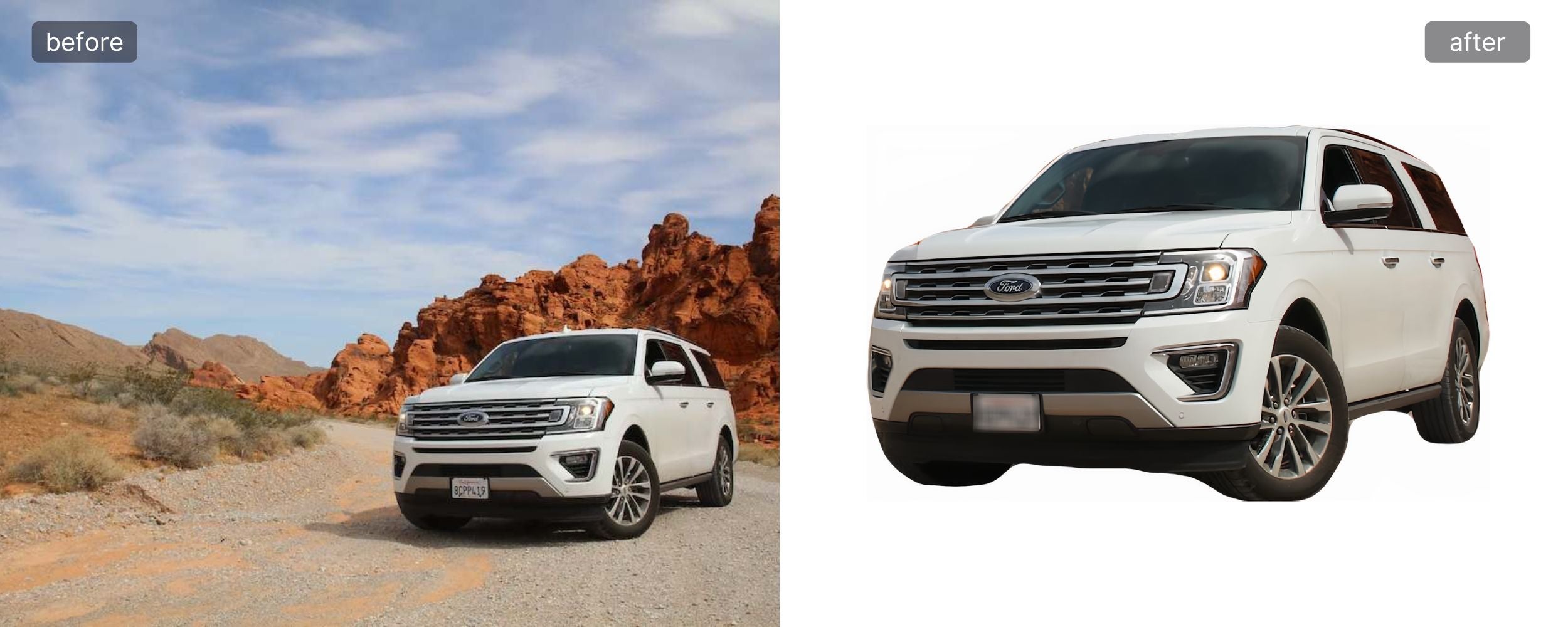 Note: Background removal has a mode designed specifically for the automotive industry. It detects the car's edges and cuts it out of the background with the highest precision.
Case study. Claid has already proven its effectiveness in editing and enhancing automotive images at scale. For example, Agencia uses Claid to fix colors on 360 car photos. Read the full customer story to learn more.
Automate car image moderation and editing
Just like Claid's image editing operations, License Plate Blur is built to work with large volumes of photos and allows you to process 1000s or millions of files each month without spending any time at all. You'll have the option to connect Claid via an API or process images in bulk using a simple interface.
Our infrastructure is based on the latest Google Cloud and Nvidia technologies and allows our enterprise clients to process any number of images quickly and reliably.
📄 Check out our docs to learn more about technical aspects of privacy, image editing and other types operations available via Claid API.
Blur license plates in real estate photos
License Plate Blur can be helpful for any type of website that works with user-provided photos taken on the street. A good example of that is real estate marketplaces.
Let's take a closer look at the plate.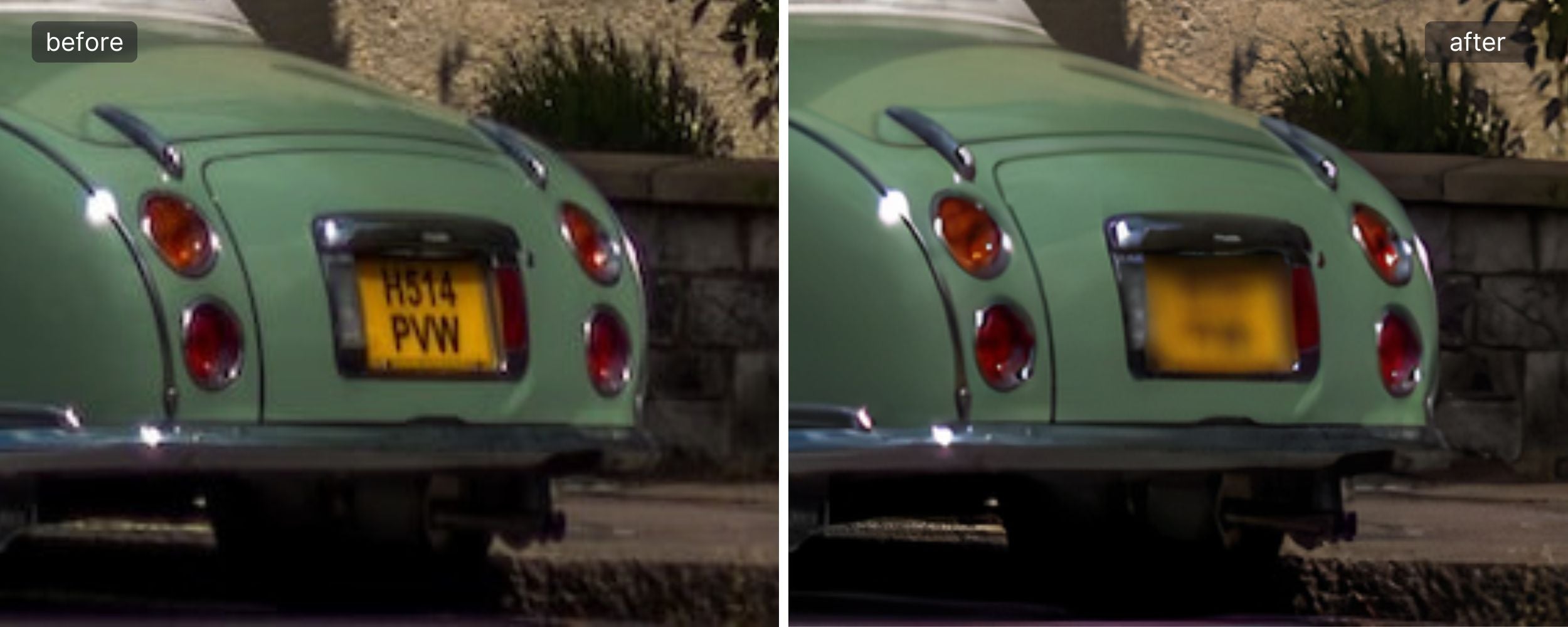 Claid's License Plate Blur can be used with any type of image as a moderation layer, ensuring that UGC on your website doesn't expose personal data such as vehicle registration numbers.
Start using Claid's privacy and image editing features in a few easy steps
Here're the simple steps we recommend you take to learn more about Claid and start using it.

Step 1: Check out our demo page and see whether the features we offer make sense for your business
Try out our interactive demo to get a feel for what Claid can do.
It showcases Claid's core features in the context of 5 key industries we specialize in. Automotive is one of them.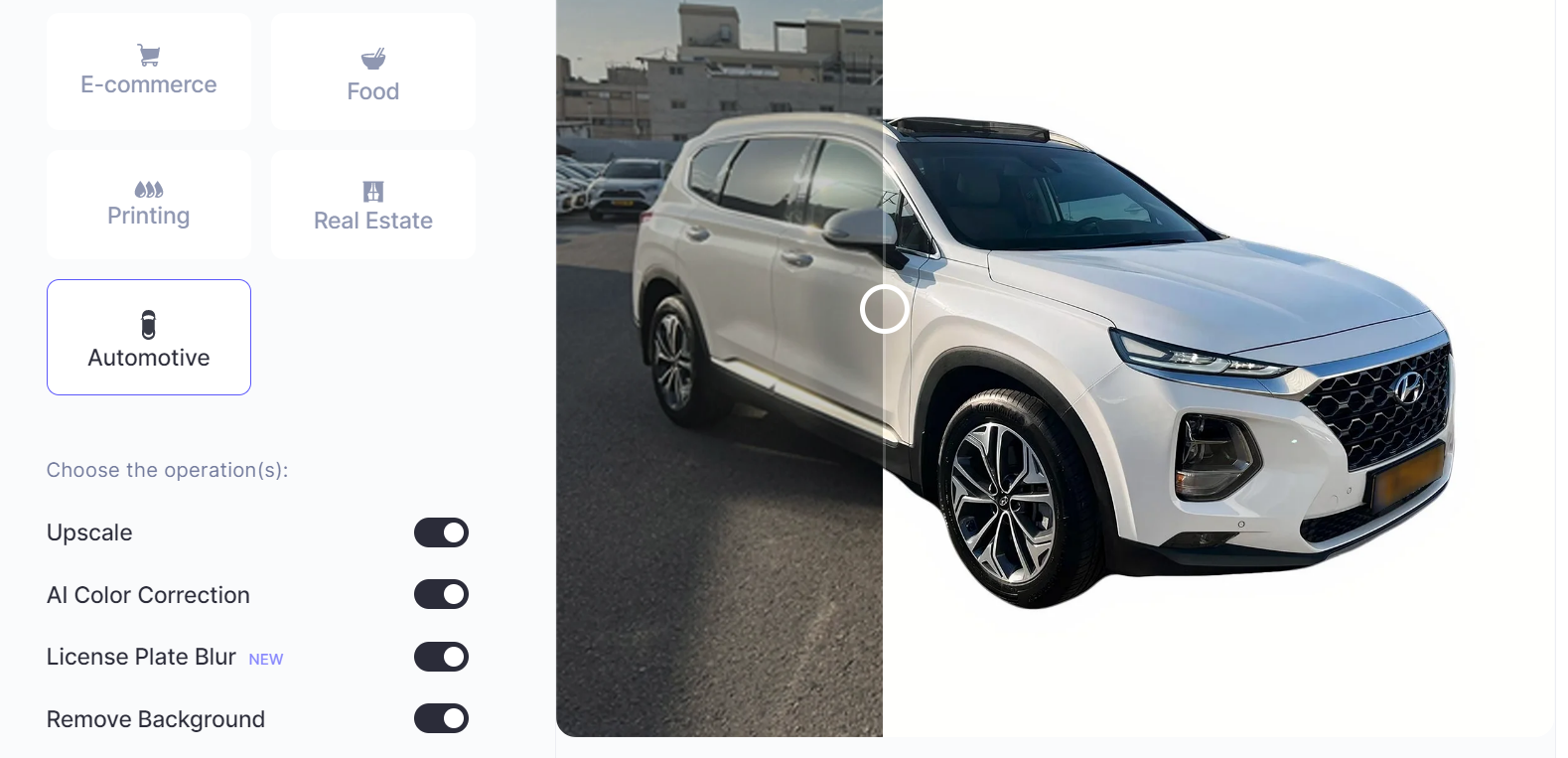 Note: After becoming a Claid customer, you'll be able to fine-tune the editing workflow to your requirements and process any volume of images 100% automatically without the need to click any buttons.

Step 2: Book a demo session
Schedule a quick demo call with us and we'd love to answer your questions and give you access to Claid.
In your Claid Dashboard, you can
Experiment with different image operation setups
Manage storage
Create API keys to share with your team
Monitor your quota usage and more
Before making any commitment, you'll have an option to test Claid on your actual images for free.

Step 3: Start using Claid and getting results
If you're happy with your free test, you can buy API calls and start using our image editing and privacy operations to achieve your business goals.
Throughout the onboarding process and beyond you will have a dedicated customer success manager from our team to help you get the most out of Claid.

More privacy features to come: request if your business needs one
License Plate Blur is only the first step in our emerging privacy and moderation set of operations. We'll be expanding our toolkit and introducing more privacy enablement features soon. In the meantime, if your business needs to automate particular image editing, moderation or anonymization tasks, contact us and we'll try to help.