Tech
Let's Enhance Partnered with Google Cloud and Nvidia to Build a Cutting Edge AI Image Processing Infrastructure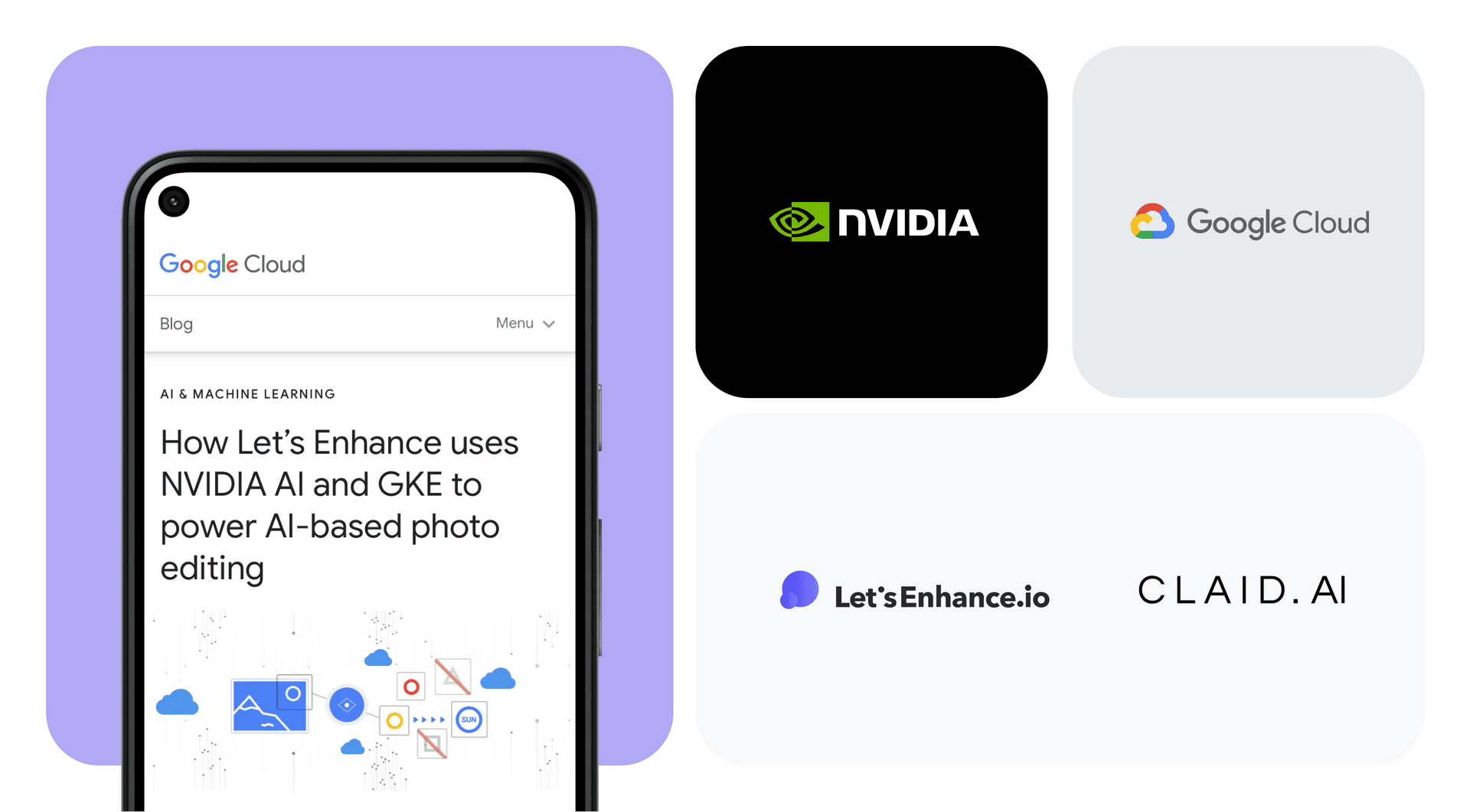 A new case study on the Google Cloud blog describes how Let's Enhance partnered with Google Cloud and Nvidia to combine their next-gen AI tech into an efficient, scalable and robust image processing system. Read our summary below.
Why we teamed up with Google and Nvidia
The goal of our project with Google Cloud and Nvidia teams was to improve the speed and efficiency of AI image enhancement, which would help us bring our technology to more people.
Challenge: AI image editing is resource-intensive. This can make it challenging to support customers that process high volumes of images, have sudden peaks in demand, and require instant scalability and near real-time performance. That's why we're constantly looking for ways to optimize our infrastructure.
Solution: Six months ago, our engineers teamed up with Google Cloud and Nvidia AI to design a production-ready solution that could better process large volumes of images, improve rendering speed and handle spikes in user demand.
Our partnership resulted in an innovative architecture that makes the most out of Nvidia's latest top-tier GPUs, Google Cloud's infrastructural environment and Let's Enhance's neural networks.

To our great honor, our case was presented at this year's Nvidia GTC, arguably the most impactful AI conference out there.
We were showcased as an example of efficient use of Nvidia's latest hardware.
Results: We increased our image processing capacity by 40 to 80%, allowing us to enhance up to 150 images per second and more.
What's in it for your business
Our project with Google and Nvidia evolved into an innovative infrastructure that your company can rely on when it grows and experience spikes in demand for image editing.
When you use Claid, you can be sure that it will:
Support the growing needs of your businesses when it scales — go from processing 10K to 10M pics a month instantly with no extra settings;
Handle seasonal and daily peaks seamlessly — our bandwidth scales dynamically as your demand spikes;
Offer the processing speed that doesn't interrupt your workflows and the experience of your end customers — enhancement can be as fast as one second per image, depending on file size, your requirements and other factors.

Note: Our capacities aren't infinite. But they're limited only by Google Cloud's computational resources and can safely cover the image preparation needs of practically any enterprise. Eg, our largest clients process 100s of thousands of images each month.

How to start using Claid
Claid.ai makes images provided by your users and suppliers look beautiful and consistent, leading to higher conversion rates. For digital marketplaces, Claid also speeds up vendor onboarding and listings' time to market. Our printing customers see increased engagement rates and total order count.

Start by checking out what Claid can do on this interactive demo page. You can also apply for a free test to see how it will work with your images, or book a call with our representative to get all the answers you need.

Claid.ai
September 16, 2022