Tech
Easiest Ways to Create Image Guidelines for Your eCommerce Platform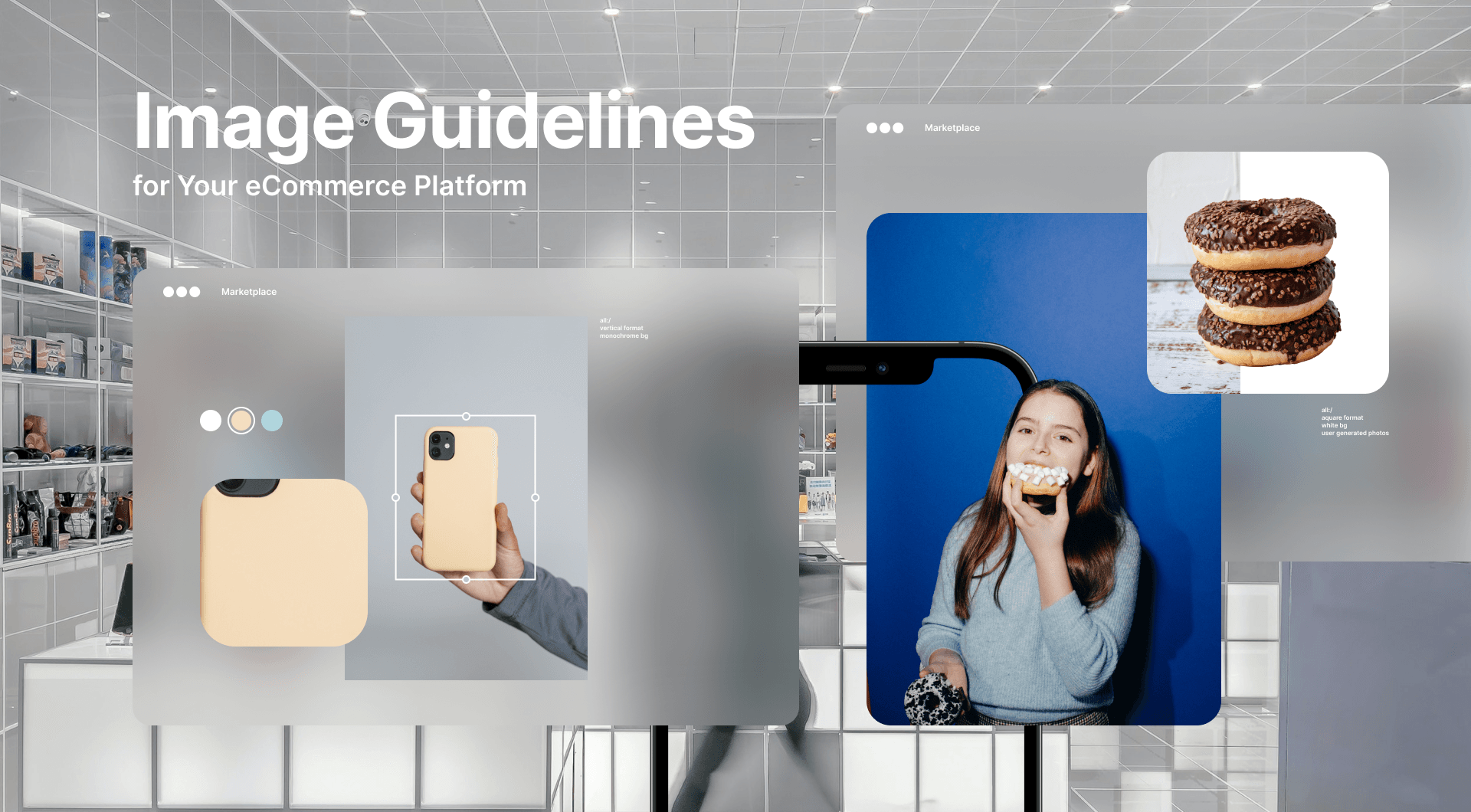 Let's talk about what image requirements you should set to drive conversions and streamline seller onboarding on your eCommerce platform.
Key takeaways
Aim for a minimum resolution of 1000-2000 pixels for the shortest side
Use images with plain white background
Make sure products are centered and fill a fixed portion of the canvas, eg 85%
Compress images for web to make your site faster, but don't sacrifice quality
Provide multiple photographs of each product to improve conversions
Why you need to set up image rules
"You have to see it to believe it" is at the center of eCommerce. Since in an online marketplace, consumers can't physically touch a product, visuals must work double-duty to convince potential buyers that something is worth buying.
In 2022 it is expected that online sales will reach $5 trillion, $6 trillion by 2024, which means that eCommerce is now more accessible than ever before. Consequently, so are high-quality product image practices. However, not everyone is blessed with a photographer's sense for quality imagery or photo editing skills.
If you've recently set up an eCommerce platform but are still unsure about how to handle image guidelines, there are some general rules that most marketplaces follow, from big to small. With these image requirements creating a set standard for your website, potential clients will have a more convenient and consistent experience on your marketplace, which in turn increases the chances of them making a purchase.
Image resolution
If a photo you upload to your marketplace is not big enough, chances are it will be pixelated or blurry. And nothing is worse than zooming into a product picture and seeing giant pixels.
If you want the buyers on your eCommerce website to have something nice to look at, start with the resolution.

So what are the exact dimensions you should aim at?
Any major online marketplace knows just how much of a role resolution plays in the overall quality of an image:
Amazon picture resolution requirements are 1,000 pixels minimum for the longest side, and 500 pixels for the shortest.
Etsy image recommendations are even more than that, with 2,000 pixels for the shortest side.
This is done to ensure that any image that is uploaded to their platforms looks crisp and clean, without that cloudy blur surrounding the product image.
Requiring high-resolution photos on your eCommerce website is a must if you want to have a high standard of quality when it comes to visual content.
Background
One of the easiest ways to make your third-party seller website look clean and professional is by incorporating a white or blank background. If you go on any major online marketplace or delivery platform, you'll notice how the products all have a blank background.

The photo without a clear, white background is significantly harder to focus on. The last thing you want is visual clutter — potential buyers want to see your product and see it clearly.
Additionally, this makes it easier to incorporate more vendors onto your eCommerce platform, even those who don't have the photography skills necessary to take product photos with great backgrounds.
This is why some of the biggest eCommerce websites such as eBay and Amazon demand blank backgrounds for all the product photos and why it's a good idea for your retail startup as well.
Alignment
Another great way to create consistency on your eCommerce platform is through product image alignment. Regardless of the product's shape, ideally it should be aligned on the canvas. It's a very subtle detail, but one that will improve user experience on your online marketplace.
Notice how your eyes seamlessly gravitate towards the center of the canvas and fix onto the product photos, as opposed to the edges of the canvas. This consistency of canvas alignment means the customers' eyes won't be gliding all over the screen, trying to fixate on the product.
It makes browsing through your eCommerce platform more comfortable, as the eyes can stay on a set vertical or horizontal line, so as you scroll through the catalog, the transition from one product to another is smooth and seamless.
This alignment also allows sellers to present as much of their product in the photo as possible. Most online marketplaces will require that the product takes up a certain percentage of pixels in the image. For example, according to Amazon image guidelines, the product must fill at least 85% of the frame, meanwhile Google My Business demand a 75% image fill. So be aware of how important product alignment is in the industry to make it easier for potential buyers to browse through your eCommerce website.
With a new Smart Frame feature, Claid can automatically remove the background and align your product pics no matter how they were taken.
Avoid stock imagery
To avoid making your marketplace look tacky, let your sellers know that stock photos are off-limits. This isn't to say that stock photography isn't practical or attractive; it totally can be.

But the fact of the matter is, buyers want to see the actual product photo taken by the seller, even if that photo is of lower quality than a stock one. Additionally, allowing vendors to use stock photos could lead to lack of trust among clients, potentially damaging your online marketplace's reputation.
Number of photos and angles
Static and dynamic in product photos refers to how much the image pops out. Let's take a cube as an example. Say one of the products on your website is a Rubik's cube with direct images of the cube from each side. The images will come out as nothing more than colorful squares in front of a background.
But now, look at these photos taken from an angle where multiple sides of the cube are visible. Now, your eyes have something more to look at, making the image more dynamic.
Ideally, you should always have a couple of photographs showcasing the product from different angles. According to eBay research, providing multiple photos nearly doubles conversions.
File size
Image file size, as in the digital memory required to store them (Kilobytes or megabytes), varies from marketplace to marketplace. Some third-party sellers, such as WooCommerce and Adobe Commerce do not specify the size of product photos or allow for very large file sizes. But most online marketplaces do set maximum limits.
On Amazon image size must not surpass 12 megabytes. The same number can be found in the eBay image size guidelines. Other marketplaces, such as Google Shopping, and Shopify have a specific image size threshold, with 16 and 20 megabytes respectively. Most product images, unless shot in higher qualities like 8K, will most likely not go beyond 20 megabytes.

Having a set maximum file size for photos also has technical advantages. Remember, that each photo that is uploaded to your website will take up memory on the server. The larger the file size of a photo is, the more bandwidth it will consume, thus making your online market run slower, which in turn, lowers the satisfaction of user experience and could even lower your platform's search ranking on Google.
Have a set maximum file size to avoid all these complications and require your sellers to compress their photos before posting. Alternatively, you can integrate automated image editor such as ours to your platform. Claid uses next-gen AI technologies to improve quality and reduce file size of your visuals simultaneously.
Set image standards with one easy tool
Now you can go through each seller on your website and individually ask them to follow these guidelines. The problem with this, is that it's time-consuming and hard to pull off, since not all vendors have the time or the technical proficiency to edit pictures to fit professional product photography standards.
But this is where the Claid.ai comes in, an AI-based API that can automatically transform all the photos on your eCommerce platform to meet industry standards. No more having to second-guess whether or not your sellers followed your marketplace's image guidelines.
Just set your parameters for the photos, and let Claid.ai handle the rest. Automatically align images, assign padding, control resolution, color, brightness, the background, and a slew of other features with Claid. This way, you're not only editing product photos, but you're also setting a standard for your online market and its future vendors.
Check how our product works or schedule a demo call right away.