How Food Photos Boost Deliveries by 15%: The Impact of Visual Content on Food Tech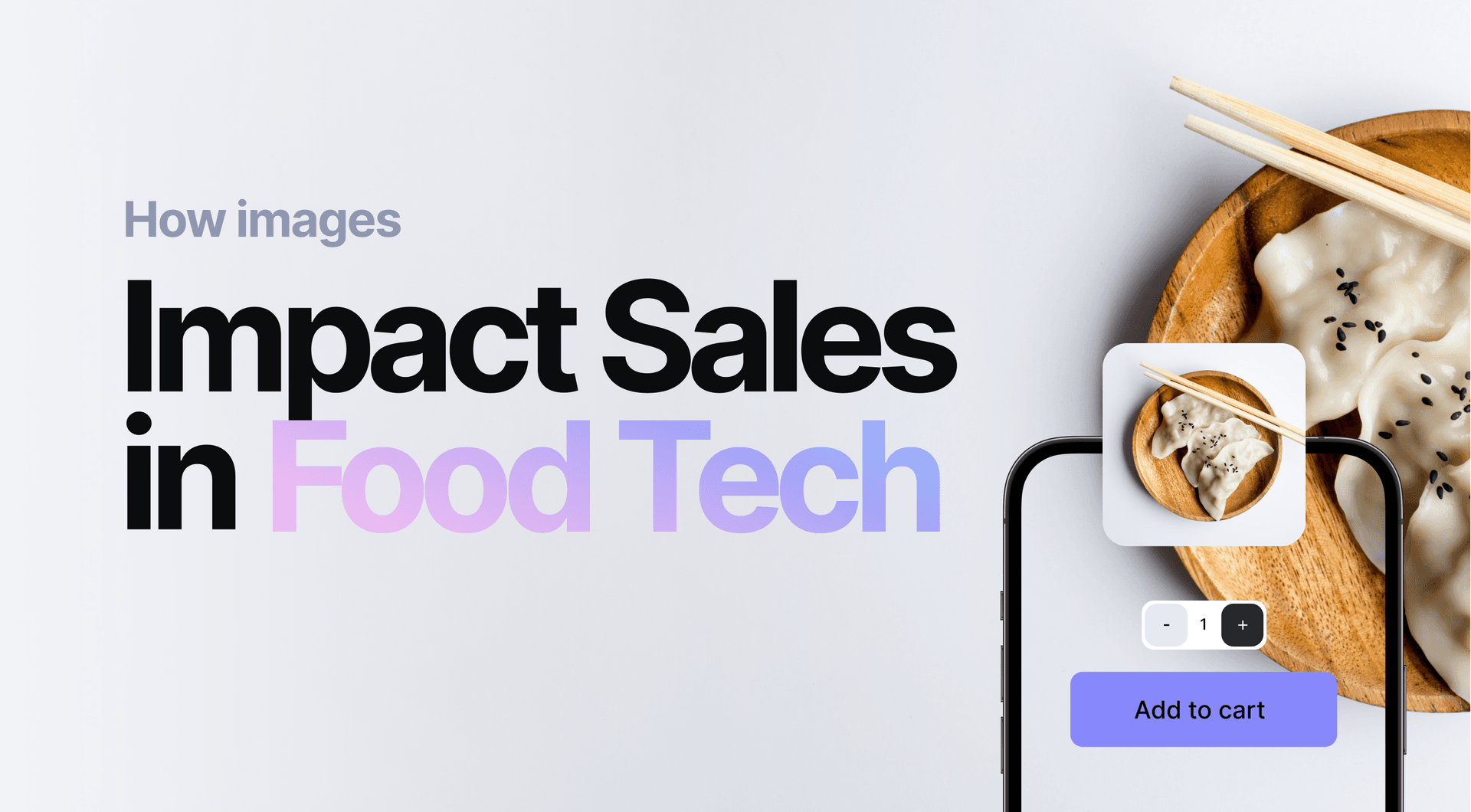 We did a little digging in the four most popular food delivery platforms, DoorDash, Uber Eats, GrubHub, and Deliveroo, to see just how your food images can impact sales and how you can use this to your advantage.
Ask any gourmand and they'll assure you that food is one of the few things in life that inhabits all 5 senses and you'd be surprised how much of an impact sight has on your eating experience. This idea of tasting food with your eyes translates directly into ordering food through delivery apps, something that 1.6 billion people around the world did in 2021.
So, here are some very useful metrics that demonstrate the importance of quality visual content in the food delivery industry.
Takeaways
Simply uploading food photos to your online menu drives up sales by 10%;
The more food images you have on delivery platforms, the more likely they are to be ordered;
Food photos allow you to condense tons of information into one single image, as opposed to paragraphs of text;
Standardized food images can leave a lasting impression on your potential customers.

High-Quality Visual Content Leads to at Least 15% Better Sales
We can make all kinds of claims about the importance of food photography in delivery applications. But to really emphasize how crucial it is to pay attention to the visual content being hosted on your delivery platform, here are some very attractive statistics:
According to DoorDash, "adding high-quality photos to your menu can increase delivery volume by 15%."
GrubHub claims that "Adding food photography to your menu page is shown to increase sales by 30%."
And while Deliveroo's number is not as high as GrubHub's, it's still a significant 24%.
This is especially when people are hungry and photos of succulent-looking food really hits home. So, if you want more hungry people to order food from your platform, the best way to entice them would be to visually demonstrate the succulent food that is available through your app.
And these figures (with the exception of DoorDash) present sales improvements from simply adding food photos to your online menu; they don't cover the positive sales numbers as a result of more professional food photographs being uploaded to your restaurant's menu.

More Photos Is a "Yes"
Another very important statistic to keep in mind is how much of your menu is on display. Some online food vendors upload images of their most popular menu items but leave out the other, less popular items. According to Deliveroo's statistics, vendors with a larger portion of their menu photographed had more orders placed.
In eCommerce, the main decision-makers are the eyes, so the more images they can see on your menu, the more likely they are to press "Order" on even the most obscure items. The main takeaway of these statistics should be to upload every single menu item to the food delivery platforms. Don't leave a single one out; from every side order and drink, right down to the weirdest sauce on your menu.

Let Your Images Do the Talking
The aim of any branding campaign is to create associations between two or more things. As a food delivery app, your aim should be to have customers associate your brand with high-quality food. But since you can't taste or smell food through a delivery application (yet, hopefully), the next best way to determine how good the food is by looking at it.
Simply taking any random photo of food on a kitchen counter won't suffice. This is where your vendors' work really needs to shine. Are you a rustic kitchen with hardy flavors of old? Plate your food on wooden plates. Need to show people you're a salad bar for those looking after their health? Use a bright green background, which communicates to your customers, that "yeah, you can eat here without making your gym trainer angry".
Let your images tell the story of your business to create brand awareness instead of relying on text. To do that, keep these two percentages in mind:
Most people only remember 10% of what they read.
That same number with images is 65%;
This is especially when people are hungry and photos of succulent-looking food really hit home. So, if you want more hungry people to order food from your platform, the best way to entice them would be to visually demonstrate the succulent food that is available through your app.

Enhance and Standardize Your Food Images
You know how a few paragraphs above, we mentioned that simply adding images to your online menu or delivery app improves sales figures? If you want to improve image conversions further, you're going to need more than just images: you're going to need standardized food photos.
Consistency visual content offers several advantages, among which is better brand perception. See, the difference between simply having food photos versus having consistent ones is: "Woah, this food looks bussin," versus "Woah, this place has bussin food."
There are a ton of factors that contribute to consistent product images, so trying to control all of these can be a ton of work, especially if you're working with a large volume of food images. Luckily, standardizing photos is pretty easy with software like Claid.ai. Within a matter of minutes, you can optimize your entire menu to look consistent, without having to individually edit each and every image.

Food for Thought
So that's just a few things to consider whether you're registering on a food delivery app or are managing a delivery service of your own. Images drive up sales. High-quality images drive up sales even more. Consistent high-quality images will create brand association and keep these higher numbers more consistent.
On the topic of consistency, Claid.ai can optimize product images and other user-generated content to fit platform guidelines within seconds. Visit the official Claid.ai page and request an account and test it on your own platform's images.