Tech
Top 10 Best AI Image Upscalers for eCommerce [July 2023]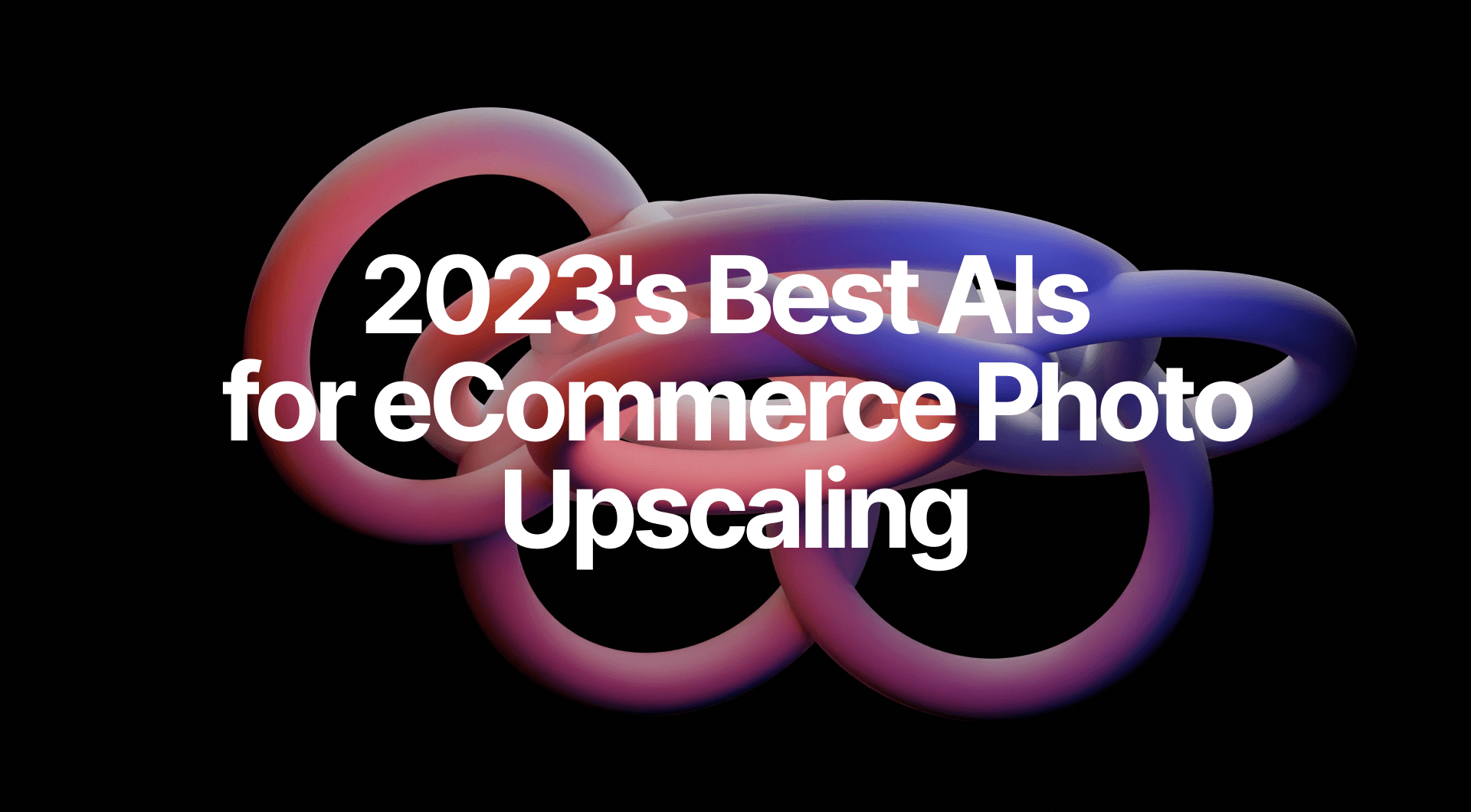 Discover the best free and paid AI image enlargers turning basic eCommerce photos into crisp, high-resolution visuals. These tools will help you enhance your product images, improving customer experience and boosting sales. Ready to upgrade your visuals? Let's dive in.
Searching for the best AI upscalers for product photos? Here's a quick snapshot:
Claid.ai: Upscale and edit product images for your eCommerce needs with a specialized tool.
LetsEnhance.io: Boost your image size and quality with simple and fast AI enhancer.
Topaz Gigapixel: Enhance images from your desktop, adding detail and scale.
Waifu2x: A cost-free solution offering a simple 2x upscaling, reducing noise simultaneously.
Icons8 Upscaler: Enlarge multiple images online up to 4x, minimizing noise and keeping crucial details.
Fotor: Enhance details and reduce noise while enlarging images online up to 4x.
Bigjpg: Turn low-quality, small images into high-definition visuals online or on mobile.
Depositphotos Upscaler: Improve low-quality images swiftly and for free, without compromising detail.
Vance AI: Enlarge images up to 8x, and anime-style art up to 16x, without quality loss.
Photoshop Super Resolution: AI-based upsizer integrated into Adobe's Creative Cloud.
What to Look for in AI Image Enlargers for eCommerce
True-to-original upscaling: eCommerce businesses need AI upscalers that maintain the accuracy of original images. This ensures that labels, texts, and material details are not distorted during the upscaling process.
Versatility: The ideal resizer caters to different needs, offering various upscaling modes for different types of product photography.
Decompression capabilities: Enlarger should be able to eliminate distortions and artifacts to enhance image quality significantly.
Additional features: Useful AI tools like background removal and generative AI capabilities to enhance product representation and enable faster content creation.
API support: For larger businesses, having robust API support for full automation is a key feature to look for.
Pricing: While free trials are a great start, the ongoing cost of the AI upscaler service should be affordable and offer value for money.
10 Best AI Photo Upscalers: In-Depth Comparison
1. Claid.ai: Best overall enhancer and editor for eCommerce
Overview: Claid.ai is an AI-powered platform specializing in upscaling and editing product images for eCommerce. Whether you're an online retailer, a marketplace, or a car dealership, Claid.ai has you covered.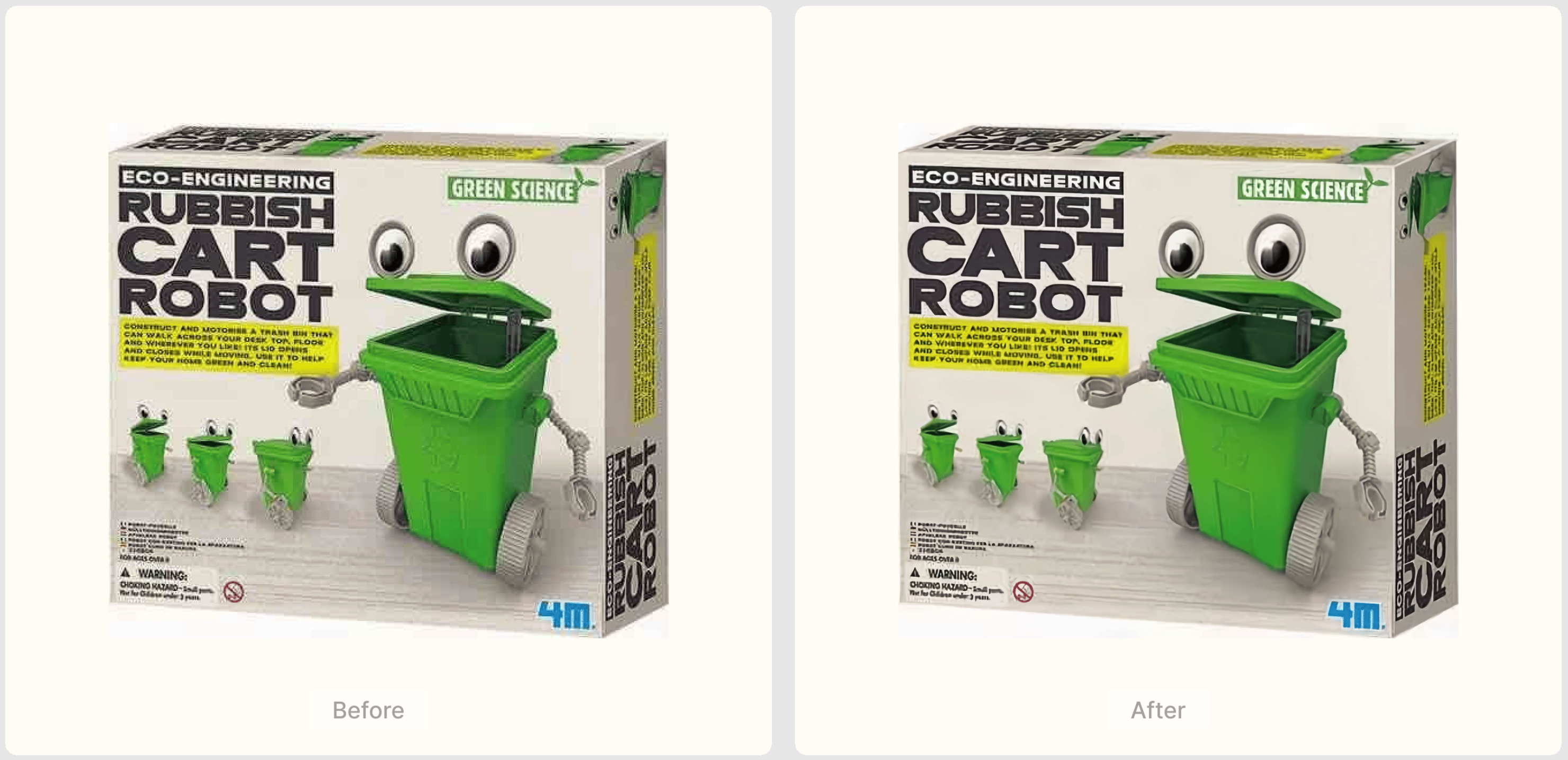 Claid.ai provides various upscaling modes to enhance any type of eCommerce image. This includes improving user-generated content, preserving product label legibility, and refining AI-generated imagery. It also effectively processes images featuring human models, keeping all essential details sharp and clear.
With its decompression feature, Claid.ai can eliminate image distortion and artifacts, bringing exceptional image quality for your eComm business.
Beyond upscaling, Claid.ai offers a slew of image editing and generative AI tools such as background removal, canvas alignment, and AI Photoshoot, which generative realistic scenes around your products, creating compelling, marketing-ready images in moments.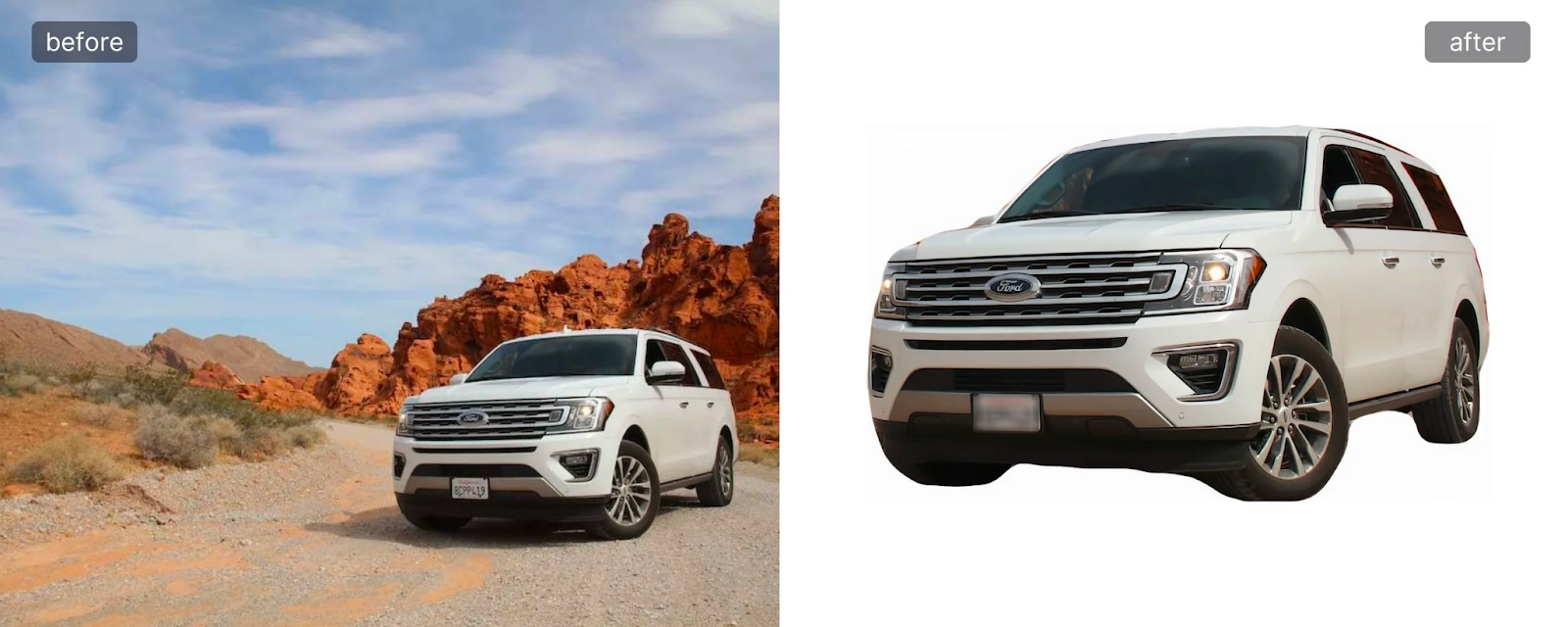 Pros:
Scales up images to 16x, enhancing quality and reducing compression noise.
Provides five distinct upscaling networks to cater to different needs.
Offers a suite of AI tools for image editing and generation, including background removal and AI Photoshoot.
Convenient online app interface and a robust API for complete automation.
Cons:
After the free trial of 20 credits, pricing starts at $39/month, which could be considered steep for casual users.
Best for: Growth-stage and high-volume eCommerce businesses aiming for superior image quality and brand consistency in competitive markets.
Pricing: Free trial for 20 credits, plans start at $39/month. Claid also offers custom pricing for API clients.
2. LetsEnhance.io: Best universal enlarger
Overview: LetsEnhance.io is a versatile tool that uses AI to increase image size and quality, capable of upscaling up to 16x. It's not just for eCommerce, but it fits in well, particularly for small businesses that need to process less than 500 images per month. High-resolution product images for listings and marketing are easy with LetsEnhance.io.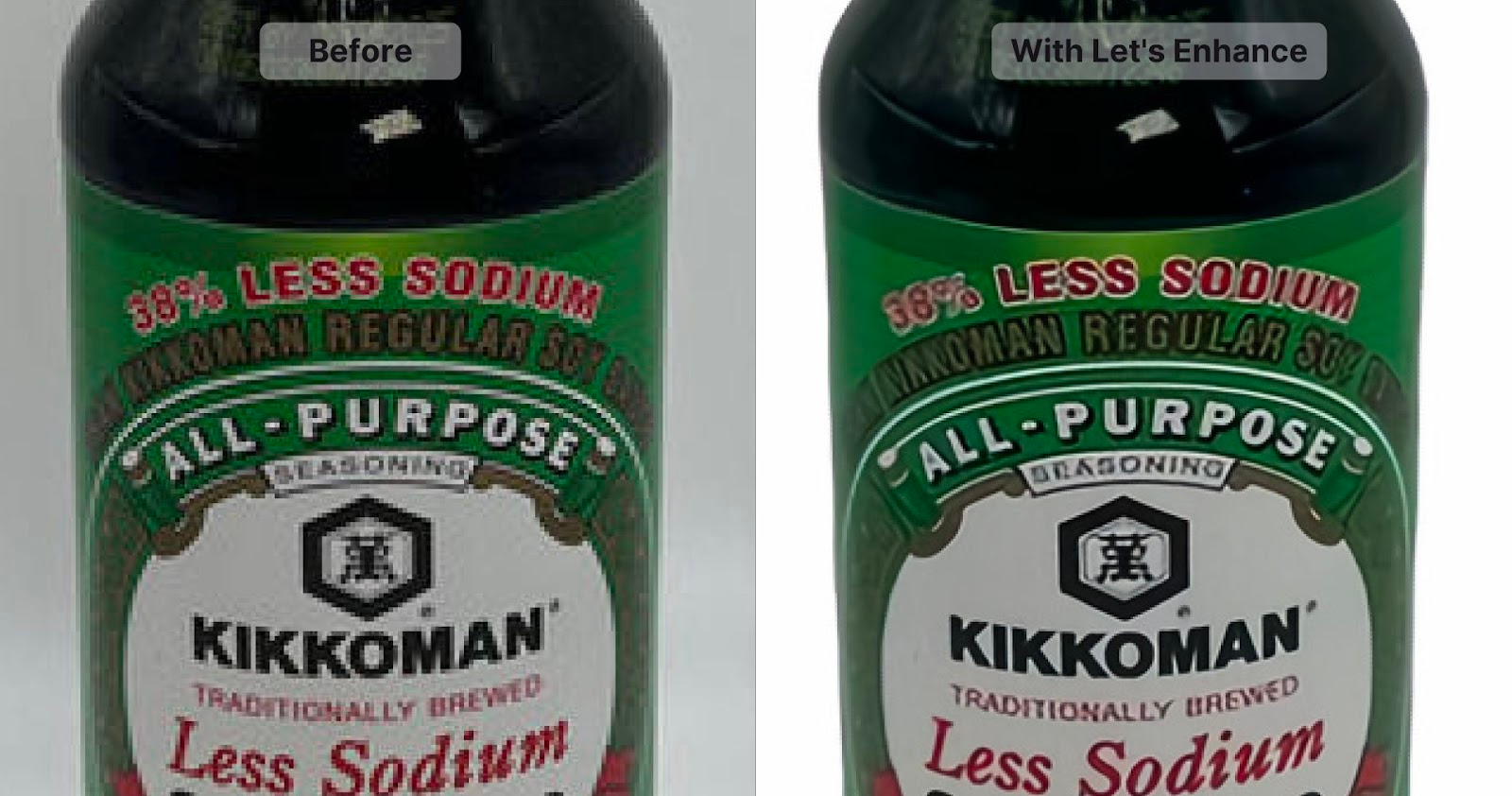 But it's more than an image upscaler. LetsEnhance.io also offers a unique text-to-image tool, creating standout artwork from simple written prompts. This can give your online shop an edge in marketing.
Pros:
Scales up images up to 16x using various AI modes.
Cleans up images, removing JPEG artifacts.
Handles batch processing for efficient operations.
Additional tools include a text-to-image generator, color correction, lighting adjustment, and removing pixelation and blur.
Cons:
Only 10 images for free users.
Best for:
Smaller eCommerce businesses, needing efficient image upscaling and a creative edge in marketing.
Pricing: Free trial available. Paid plans start at $9/month with one-time bundles also available.
3. Topaz Gigapixel: Ideal for Desktop Use
Overview: Topaz Gigapixel is a desktop application that uses AI to enhance images by upscaling and adding detail. It works well for online retailers requiring high-quality product images, particularly when enlarging low-resolution photos or sharpening blurry ones.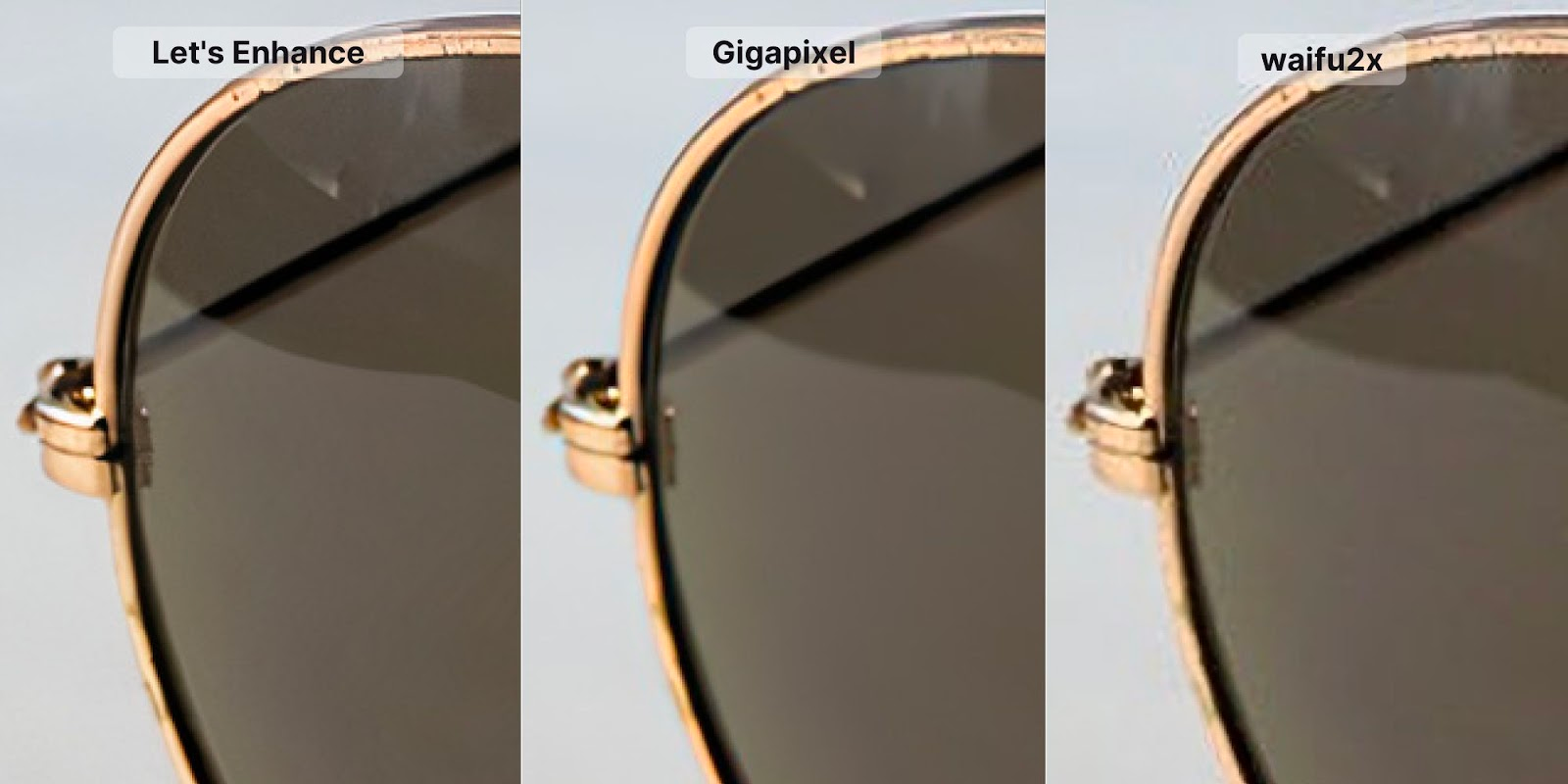 👉 Explore an in-depth comparison of LetsEnhance.io, Gigapixel, and Waifu2x.
Pros:
Offers upscaling up to 6x and supports batch processing.
Reduces noise and keeps image quality intact after resizing.
An automatic face recognition feature ensures details and sharpness in enlarged portraits.
Cons:
As standalone software, it may not be as convenient as online tools.
Has high system requirements, and the processing speed may be slow, depending on your computer.
Best for:
Businesses that prefer a desktop solution for image upscaling.
Helpful in enhancing photos taken with low-megapixel cameras or heavily cropped images.
Pricing: Available for a one-time purchase of $99.99
4. Waifu2x: No-Cost Tool with Limited Features
Overview: Waifu2x is a free, open-source image upscaler. Initially created to double the size of anime images, it can also handle other kinds of pictures. It uses deep convolutional neural networks to upscale images and reduce noise simultaneously.
Pros:
Free and open-source, a good choice for budget-constrained businesses.
It reduces noise during the upscaling.
Can handle batch processing.
Comes with versions for different platforms.
Cons:
The user interface may feel old-fashioned and less intuitive than other options.
Requires a robust computer system for good speed and performance.
Only doubles the size of images (a 2x upscaling limit).
Some users report frequent errors during the upscaling process.
Best for: micro-businesses operating on a tight budget and needing a simple, cost-free solution for upscaling various types of images.
Pricing: free.
5. Icons8: a design assets collection with an AI-based resizer
Overview: Icons8 Upscaler is an online tool driven by AI that enlarges pictures up to 4x. In doing so, it minimizes noise and keeps important details intact. It's a fitting solution for eCommerce that need to refine their low-resolution or blurry product images.
Pros:
Upscales photos up to 4x, minimizes noise, and preserves crucial details.
Supports batch processing, allowing multiple images to be upscaled at once.
Works online, so there's no need for software installation.
Offers a free tier that allows up to 5 images to be upscaled per month.
Cons:
Free version restricts users to 5 images per month, and the premium tier allows up to 1000 images per month.
Best for: eCommerce businesses that require an online, multi-image upscaling solution with a library of design assets.
Pricing: Free for basic use, premium plans start at $9/month or $99/year, offering unlimited access to all Icons8 products.
6. Fotor: online image enhancer and editor
Overview: Upscaler by Fotor uses AI to enlarge photos up to 4x, reducing noise and enhancing details. This tool suits businesses that aim to improve the quality of product images, real estate photographs, or old pictures.
Pros:
Enlarges pictures up to 4x, reduces noise, and enhances details.
Supports various image formats and operates online, eliminating the need for software installation.
Provides a free trial with an unlimited number of images.
Cons:
The free version restricts resolution to 2000x2000px and applies watermarks to the images. The premium version caps file size at 30MB.
free version shows ads
Best for: eCommerce businesses searching for a simple tool to boost image quality.
Pricing: Free for essential use. Premium plans start at $8.99/month, offering faster processing and higher resolution.
7. Bigjpg: For optimizing low-resolution images
Overview: Bigjpg is a tool that uses AI to enlarge small, low-quality images into clearer, high-definition versions. Suitable for eCommerce businesses working with low-resolution product photos, including those with anime-style art, it's an online and mobile-ready option.
Pros:
Has the ability to upscale images up to 16x, reduce noise, and remove JPEG artifacts.
User-friendly interface and supports multiple image formats.
Available for use both online and offline.
Free tier allows for unlimited images.
Cons:
Free version caps resolution at 3000x3000px and has slower processing times.
Premium version limits file size to 50MB.
Best for: businesses seeking a simple solution to enhance small, low-quality images, using either online or mobile platforms.
Pricing: Free with limitations. Premium plans start at $5/month or $50/year, offering faster processing and higher resolution.
8. Depositphotos: image resizer from a stock giant
Overview: Depositphotos Image Upscaler is a free online tool that can improve low-quality images with a single click. It allows you to double the size of any picture up to 15MB. The tool uses AI technology to facilitate a swift editing process, enhancing resolution and overall image quality while retaining crucial details.
Pros:
Provides immediate upscaling powered by AI.
Features a user-friendly interface.
Can be accessed from any device, with support for drag-and-drop file uploading.
Processed images are not stored on servers and are automatically deleted after 3 hours.
Cons:
Lacks editing options beyond upscaling.
Only supports the JPG format.
No API or batch processing
Best for: Photographers, marketers, bloggers, designers, and content creators at all levels who require a straightforward tool to enhance image quality.
Pricing: Free for use.
9. Vance AI: low res to hd converter
Overview: Vance AI offers an AI-driven image upscaling solution, capable of enlarging low-resolution pictures up to 8x without quality loss. The tool stands out with a specialized AI model for upscaling small anime photos up to 16x. Catering to the needs of eCommerce, it enhances various types of images, from landscape shots to product photos.
Pros:
Enlarges images up to 8x while preserving quality and up to 16x for anime images.
Mitigates noise and eliminates blur during the upscaling process.
Automatically compresses and resizes images exceeding 2000x2000px or 5MB.
Offers a free trial without sign-up requirements.
Cons:
Doesn't feature in-built editing capabilities, restricting its use to image upscaling only.
Leaves watermarks on the upscaled images when using the free version.
Free trial is limited to only a few images.
Best for: Businesses looking for a straightforward solution to upscale images, particularly anime-style art, without compromising quality.
Pricing: Free for basic use with watermarked outputs. Paid plans start at $9.90/month for the Basic plan and $19.90/month for the Pro plan. The paid plans offer greater upscaling capabilities and remove watermarks.
10. Photoshop Super Resolution to upsize raw photos
Overview: Adobe Super Resolution is an embedded feature in Adobe's Creative Cloud that increases the resolution of digital images. It doubles the linear resolution, quadrupling the total pixel count while maintaining fine details. Suitable for users who need to enhance the quality of their images significantly, it offers an efficient way to process a batch of images at once and supports various file formats.
Pros:
Can process multiple files simultaneously.
Fast upscaling process.
Integrated within Photoshop.
Simple to use with a straightforward process.
It applies a precise algorithm to maintain image quality.
Cons:
Upscaled images tend to be quite large.
Not designed to handle small and compressed pictures well.
Requires conversion of any file to DNG; does not support PNG.
Uses significant system resources, requiring a high-end PC with a robust GPU for speedy processing.
Not optimized for product images and printing.
Lacks API support and automated end-to-end image processing capabilities.
Best for: Users with access to the Adobe Creative Cloud who need to upscale relatively high-quality raw files.
Pricing: No additional cost for users who have already subscribed to the Adobe Creative Cloud.
Honorable mention: Remini mobile app to restore images
Overview: Remini is a photo and video enhancement tool powered by AI, designed to breathe new life into old or poor-quality visuals. While widely utilized for personal use, it can also serve eCommerce platforms seeking to improve product photos.
Pros:
Specializes in restoring and enhancing old photos and videos, yielding high-quality results.
Capable of realistically improving skin textures.
Can deblur blurry photos, restore damaged photos, and adjust color.
User-friendly interface allows even beginners to navigate with ease.
Offers additional tools and features in the premium version.
Cons:
Full capabilities and high-quality output are available only with a paid subscription.
Users have reported occasional technical issues and subscription troubles.
Limited effectiveness of some features, like the "Enhance+" feature.
Some users find the app to be slower to load than desired.
In-app advertisements can be intrusive, even for those with a subscription.
Best for: Businesses dealing with vintage or used goods that need a mobile image quality app.
Pricing: The app is free to download and use, but in-app purchases unlock its full potential. The premium version costs a few dollars per month.
FAQ
What is AI image upscaling?
AI image upscaling is a process of increasing the resolution and quality of low-resolution images using artificial intelligence algorithms. AI image upscaling can help enhance the details, sharpness, and clarity of images without introducing artifacts or distortions.
Why use AI image upscalers for eCommerce?
AI image enlargers can help eCommerce businesses improve their product images and boost their online presence. High-quality and crystal-clear images are essential to attract potential customers and increase conversion rates. AI image upscalers can help eCommerce businesses upscale or enhance their images quickly and easily, without spending on expensive tools or hiring professional designers.
What AI can improve picture quality?
AI image quality enhancement is a process of improving the resolution, sharpness, and clarity of low-quality images using artificial intelligence algorithms. AI can help eCommerce businesses create stunning product images that attract customers and increase sales. Some of the best AI tools for image quality enhancement are:
Claid.ai: An AI tool that helps eCommerce businesses optimize their images to drive engagement and conversions. It can enhance image quality, generate backdrops, remove backgrounds, and more.
LetsEnhance.io: An AI tool that helps users upscale their images up to 16x without losing quality. It can also remove backgrounds, and generate captivating AI art from text prompts.
Topaz Labs: An AI desktop tool that helps users enhance their photos and videos with noise reduction, sharpening, upscaling, and more.