Tech
Meet Claid API 2.0: a Next-Gen AI Image Editor for UGC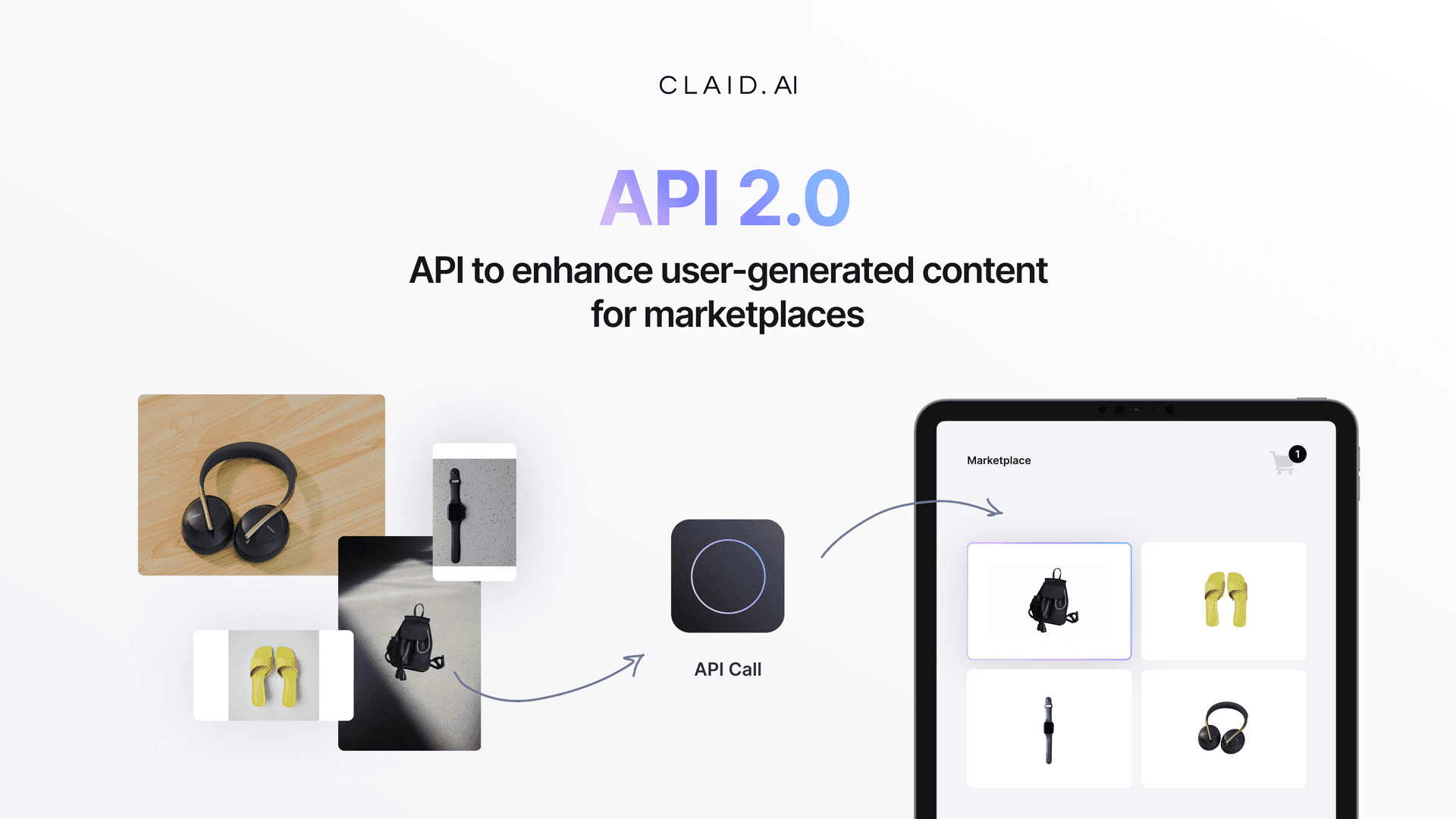 Online marketplaces rely on user-generated content but have limited control over its quality. Claid's new API allows multi-vendor platforms to automatically enhance photos provided by 3rd-parties so that every image always meets the requirements.
Claid API 2.0 helps eCommerce websites improve images, make them look consistent, and automate editing tasks.

Boost conversions with better images
High-quality listing photos engage and sell better. There're plenty of studies that show how images can help marketplaces succeed.
Those industry pioneers that made it usually figure out the importance of high-quality images early on. Eg, in the early days of Airbnb, founders decided to invest in better photography that instantly gave the marketplace an edge over the competition.

How Claid API helps enhance images
Claid's AI is trained on vast datasets of real-world images, so it edits pictures at a level close to human retouchers. And does that 100% automatically.

With Claid's AI-based features, you can
Increase resolution and make images clear
Remove pixelation and blur
Clean up noise and compression artifact
Fix colors and lighting
Claid API also gives you access to neural networks built specifically for UGC. They restore pictures resized and compressed by social media and messenger apps so that user-uploaded photos will always look their best on your platform.
Convey trust with consistent imagery
People trust marketplaces that create a perception of quality. And listing images stand out among other factors when it comes to the overall impression from your platform.
This study shows that standardized product photos contribute to a 26% better website design perception score.



Consistent imagery also helps create an equal environment for all your suppliers to compete for buyers' attention.
For these reasons, having a plain background on photos is a common rule across image guidelines of top eCommerce websites.


How Claid API helps standardize photos
Your marketplace can ensure a uniform look across your website with Claid's Smart Frame features:
background removal
transparent, white or custom color background support
centering and aligning products
making objects fill a fixed percentage of the canvas
transforming aspect ratio to 16:9, 4:3, 1:1 or any custom dimensions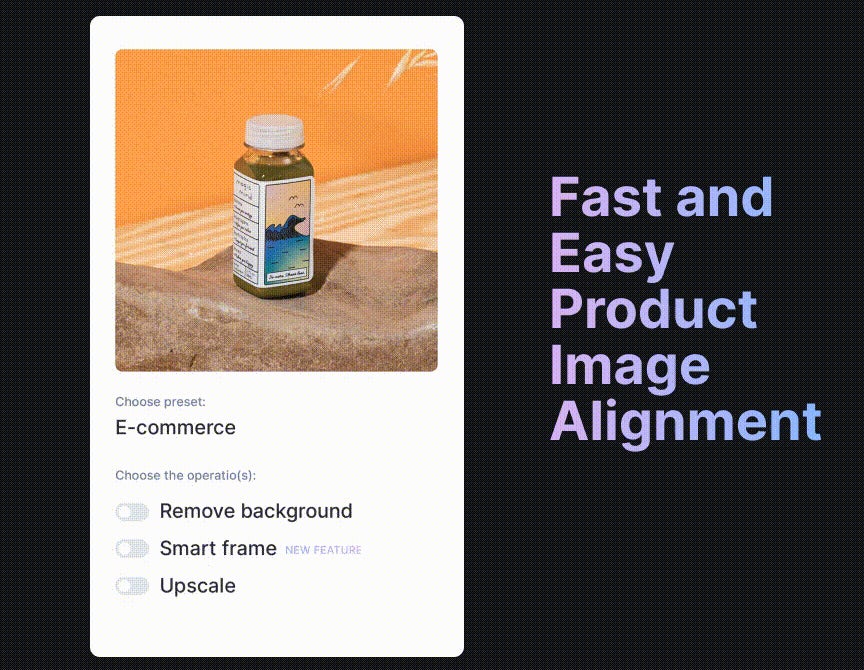 👉 Check out how Smart Frame works with this interactive demo.
Scale with automated image preparation
Speed is critical for digital marketplaces. Fast-growing platforms have network effects on their side. That means the more users you have, the more value your marketplace offers, which leads to more users joining and so on.


Automating the image editing process allows your business to
Scale faster by delegating content-related part of vendor onboarding to our software
Cut time to market for each listing, broaden inventory and improve liquidity
Keep the high standard of quality of visuals without over-extending content teams
"We are excited to launch Claid API 2.0 as it helps businesses to make the most of the users' content. From now there is no need to invest in editors teams as ​​all catalog manipulations can be done instantly in the cloud."

Sofiia Shvets, CEO and Co-founder of Claid & Let's Enhance.
How Claid API automates editing workflows
Claid API is simple, reliable and flexible:
It wraps up complex machine learning-based features in a simple interface — your developers will love it.
Powered by Google's top-tier cloud GPUs, Claid processes images in a snap. Our infrastructure allows you to enhance millions of images each month.
Stack up dozens of operations to adjust images to your requirements in one go. Securely connect most popular cloud storages - Amazon S3 and Google Cloud.
"After a quick setup, Claid instantly improves the quality of imagery on any website or mobile app, which was not technically possible before."

Vlad Pranskevičius, CTO and Co-founder of Claid & Let's Enhance.
Check how Claid API integration works in the diagram below.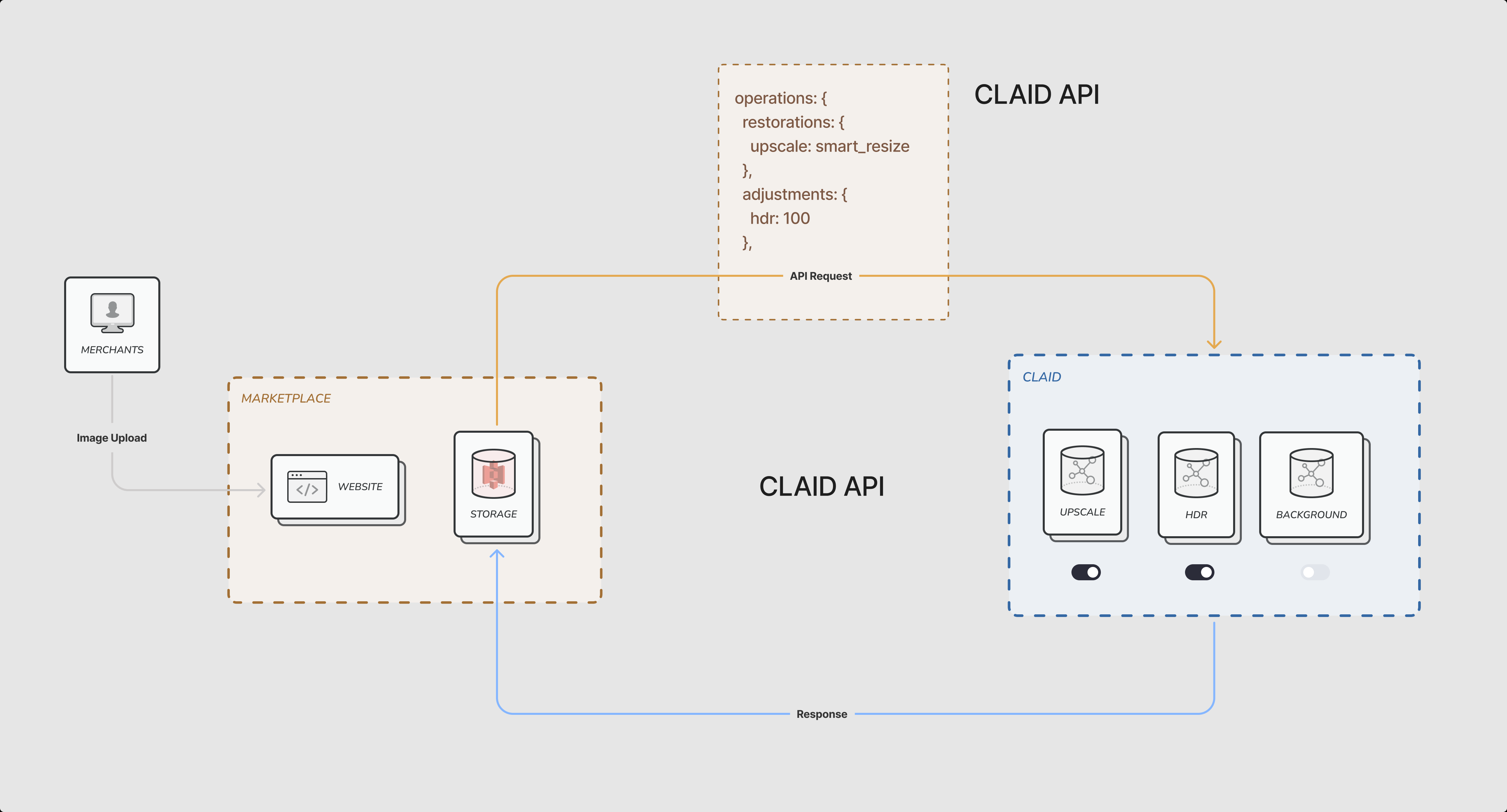 Our new API is so simple that even a single person with basic coding skills can connect and set it up without much effort. In addition, you can manage the API and monitor its usage in your personal account on our website.
Extra advantages of Claid API 2.0 include:
Ability to generate API keys with access to different features and give these keys to different teams inside your company.
Transparent monitoring based on the number of API calls.
Presets and features built specifically for eCommerce, real estate, automotive and other industries.

Check the value for your business with 1000 free images
To make the adoption even easier, we'll help you come up with an ideal combination of image enhancement features. Apply for 1000 free images to process and check if Claid API is a good fit for your company.